29/03/22 - DBN Business Breakfast Talk - The effect of the war in Ukraine on the already surging inflation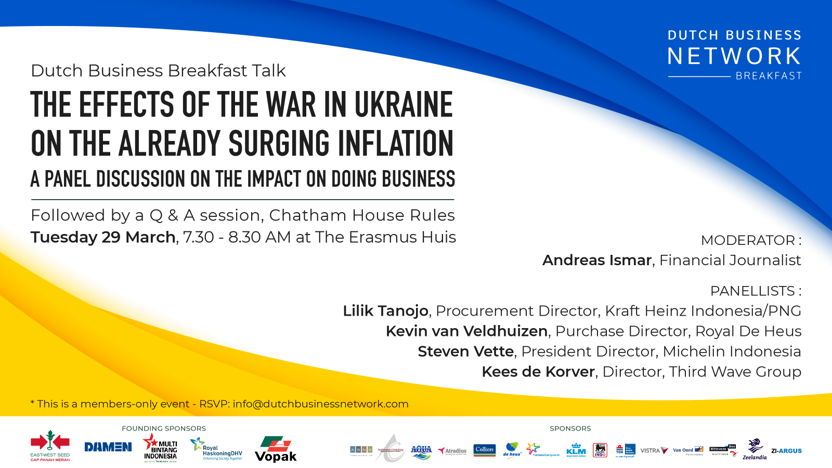 dinsdag 29 maart 2022
Organisator
Dutch Business Network Indonesia (DBN)
DBN Indonesia
Dutch Business Network Indonesia
Evenement data
Van 29 maart 2022 02:30
Tot 29 maart 2022 03:30
On Tuesday March 29, DBN will organize the next Business Breakfast Talk at the Erasmushuis in Jakarta. This Talk will focus on the effect of the war in Ukraine on the already surging inflation. This topic will be discussed within a business panel discussion, with the following panelists:

- Lilik Tanojo - Procurement Director at Kraft Heinz Indonesia/PNG
- Kevin van Veldhuizen - Purchase Director at Royal De Heus Indonesia
- Steven Vette - President Director at Michelin Indonesia
- Kees de Korver - Director at Third Wave Group

Moderator: Andreas Ismar - Financial Journalist

After the paneldiscussion, there will be a long Q&A session on uncertainty and volatility. The two words that describe the current business environment. Inflation and supply chain disruptions are causing big challenges for business today. Let's understand how different companies are managing through the current environment.

A live event (no streaming) at the Erasmushuis.

Date: Tuesday 29 March from 7:30-8:30 (walk-in from 7:00)
Location: Erasmushuis, Jakarta
*This is a DBN members-only event.