Integrated Systems Europe (ISE) & Dutch Networking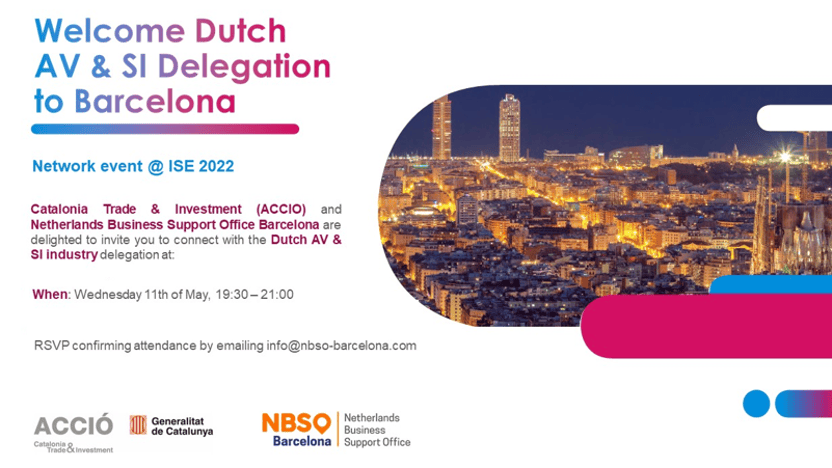 dinsdag 10 mei 2022
Barcelona
Organisator
Integrated Systems Europe
Evenement data
Van 10 mei 2022 09:00
Tot 13 mei 2022 19:00
The Integrated Systems Europe (ISE) annual conference will be held from 10 to 13 May 2022 in Barcelona. ISE is the world's largest trade fair for the integration of AV systems. ISE attracts a very wide range of attendees from a wide variety of companies (the AV channel and AV end users).

Since its move from Amsterdam to Barcelona in 2020, in times of pandemic, ISE was temporarily fated to take place in reduced format.

Fortunately, this year's edition is expected to recuperate most of its glory and to welcome back visitors and exhibitors from all over the world.

The Netherlands Business Support Office in Barcelona does not want to let this pass unnoticed and therefore organizes a networking event to welcome Dutch companies from the sector and to connect them with the local ecosystem.

This event will be organized in collaboration with Catalonia Trade & Investment (ACCIÓ), the Catalan Government's agency that promotes foreign investment and business competitiveness.