Conflict Monitoring Report: June 2023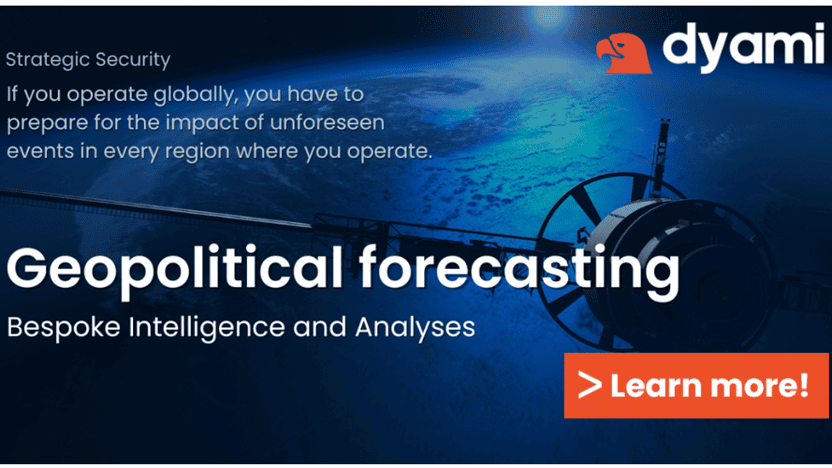 Russia: Wagner Group leader Yevgeny Prigozhin leads an armed mutiny.

Russia-Ukraine: Ukraine starts the counter-offensive amid concerns about the nuclear power

plant of Zaporizhzhia and deadly Russian air strikes.

Sudan: Fighting in Sudan continues, leading to more humanitarian concerns and crimes against

humanity allegations.

France: Riots erupt after a police officer shot and killed 17-year-old Nahel M.

Israel-Palestine: Attacks from both sides continue while Netanyahu pushes the Reform Bill forward.

Vietnam-China: Tensions rise as Chinese traffic, frequency, and length of incursions in Vietnam's

EEZ increase.

Honduras: A deadly riot in a women's prison led to a military crackdown on prisoners around the

country.

Burkina Faso: Reports of war crimes are published while the situation deteriorates.

Serbia-Kosovo: Tensions escalate and Serbian authorities arrest three Kosovar police officers.

Myanmar: The conflict continues, the humanitarian situation deteriorates, and Thailand meets

with junta generals.

Armenia-Azerbaijan: Peace talks continue despite attacks.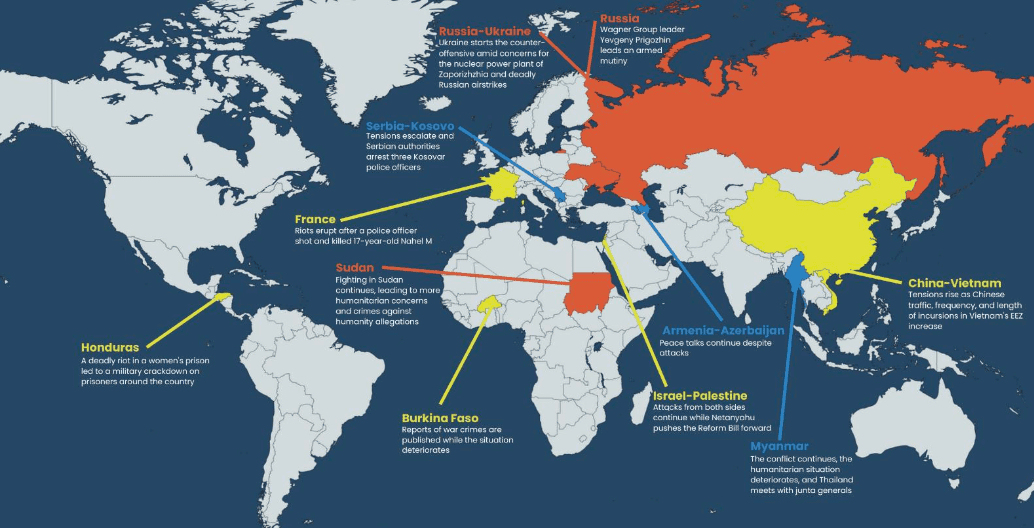 Conflicts, June 2023
1. Russia
Wagner group leader Yevgeny Prigozhin led an armed mutiny against the Russian military on 23-24 June 2023. Putin called it a 'stab in the back' for Russia and called anyone participating in operations a traitor. This posed the most serious challenge to Putin's regime since the war against Ukraine began in February 2022. For less than 24 hours, Wagner troops took over the southern city of Rostov-on-Don and moved north toward Moscow, reaching approximately 200 kilometers from the capital. Roads leading to the capital were barricaded and destroyed by Russian troops, and Moscow was put on high alert. However, around 20:00, Belarussian President Lukashenko announced that he brokered a deal between the Kremlin and the Wagner Group, which led Prigozhin and all of his fighters to return to base and vacate Rostov- on-Don. Since then, the movements of Prigozhin have been unclear, although the agreement stipulated that he would go into exile in Belarus.
Prigozhin had been arguing for weeks that the Russian war in Ukraine was being badly fought, accusing Defense Minister Sergey Shoigu of starving Wagner troops of ammunition. In early 2023, Wagner was barred from recruiting more prisoners, and on June 10, 2023, Shoigu announced that Wagner soldiers would have to sign contracts with his ministry – essentially ceasing to exist as a separate group. As a result of the mutiny and the subsequent Belarussian-brokered deal, no charges against Prigozhin and his followers were pressed, but few details have been released. The Wagner soldiers who didn't participate in the mutiny can now sign contracts with the Defense Ministry or retire. The fate of the Wagner Group and that of their operations abroad remain unclear, and doubts about Putin's internal grip on power arose. The upcoming months will be crucial to determine in which direction Russian foreign policy, the war in Ukraine, and the country's stability will head.
2. Russia-Ukraine
Ukraine started the well-awaited counter-offensive in June and quickly regained small pieces of territory. The Russian army claims, however, that the counter-offensive is a failure and that Ukraine lost a large number of tanks and heavy infantry vehicles of Western manufacture. For the moment, it seems that the Ukrainian army will be facing resistance from Russian defensive lines until they find a breakthrough point. Throughout the month, Ukrainian cities were bombarded with Russian drones and missiles, killing large numbers of civilians, including one deadly strike on a food court in Kramatorsk on June 27 that killed 16 people and injured 91. The Ukrainian government claimed later that Russia had plans to damage or destroy the nuclear power plant Zaporizhzhia by July 5, but Russia denied any such plans. While the Wagner Group started a violent insurrection in Russia that turned international attention away from the conflict, this was too brief for the Ukrainian Army to take advantage of in the battleground. The implications of the Wagner rebellion for the future of the Ukrainian counter-offensive are not yet known.
3. Sudan
The conflict in Sudan has intensified over the past month as neither the Rapid Support Force (RSF) nor the Sudanese Armed Forces (SAF) gained ground since the beginning of the conflict in April 2023. Intense fighting has taken place in Khartoum with heavy artillery and air strikes as both sides vie for control of the city. The western region of Darfur has also seen heavy fighting, with reports of civilians targeted for their ethnicity by the RSF and other Arab militia. The United Nations has spoken of 'crimes against humanity' in the region, where the conflict has taken an ethnic dimension. The death count is reported to have reached 3,000 civilians, with 2.2 million refugees displaced to neighboring countries. Ceasefiresnegotiated between the RSF and the SAF and the US and Saudi Arabian governments have failed to hold for longer than two days, with repeated violations reported. Egypt has tightened restrictions on refugees fleeing the conflict.
Alerts and developing situations, June 2023
1. France
On 27 June, a police officer shot and killed 17-year-old Nahel M, starting riots across the country with French police accused of racial discrimination. Rioters resorted to looting public buildings, stole lethal weapons from police stations, and attacked public buildings, including a mayor's home. Thousands of police were deployed across France to quell the riots, with hundreds of arrests as a result. The police officer who shot and killed Nahel M. was charged with homicide at the end of June, but this did not stop the riots. French President Macron suggested that the intense periods of the riots have passed. However, fears of further riots have led to bans on the sale of fireworks and an additional 45,000 police deployed on the streets on Bastille Day, 14 July.
2. Israel-Palestine
The conflict between the Israelis and the Palestinians saw a surge in smaller but significant incidents.
There were several Palestinian terrorist attacks on Israeli civilians and soldiers, while Israeli ultra- nationalist settlers attacked Palestinian homes and cars and injured over 145 people, and the IDF (Israeli Defense Forces) made several incursions into Palestinian areas killing and capturing Palestinian militants and civilians. In the same month, prime minister Netanyahu pushed the Reform Bill forward. The Reform Bill is highly contested by a large part of the Israeli population and has led to massive protests and strikes. In a bid to please the right-wing parties that support the government, there has been little to no crackdown on the ultra-nationalist, orthodox, and settler civilians attacking Israeli-Arabs and Palestinians. However, there has been a surge of violence from the police and the IDF towards Palestinian militants and civilians inside Palestinian territories.
3. Vietnam-China
In June, China sent more patrol and naval vessels into Vietnam's exclusive economic zone in the disputed area of South China Sea, raising tensions between the countries. A Chinese coast guard ship stayed and observed Vietnam's oil and gas projects in the EEZ in an attempt to normalize China's claims over Vietnam. Hanoi rejects China's assertion of the "nine-dash line," describing it as a violation of its sovereignty and its economic interests. According to the nine-dash map demarcation, China claims sovereignty over 80% of the South China Sea. The recent clashes demonstrate China's militarization of the South China Sea and power projection against other claimants such as the Philippines, Indonesia, and Vietnam. With China's actions increasingly pulling the US closer to the Southeast Asian claimant states, the intensification disputes over the South China Sea are set to continue.
4. Honduras
On June 20, the deadliest riot in a women's prison in Honduras erupted, in which 46 women lost their lives. Two rival gangs, the Barrio 18 and MS-13, have been fighting for control over Honduras' prisons for years, resulting in dozens of deaths. During the riot, gang members attacked each other with machetes, guns, knives, and flammable liquid, setting people on fire. President Castro quickly reinstalled military oversight, despite her attempt to demilitarize the prison system one month before the riots. The Honduran Armed Forces announced on June 26 the beginning of an operation to 'regain control of the prisons.' This military operation reflects the way neighboring country El Salvador deals with gang violence in its prison system. Human rights groups have denounced both countries' hard lines on crime and ineffective (and at times inhumane) prison systems. Honduras declared a state of emergency in December 2022 in an attempt to curb long-standing issues with gang violence in the country.
5. BurkinaFaso
At the end of June 2023, Human Rights Watch published an additional report documenting the human rights abuses, unlawful killings, and disappearances perpetrated by the Burkinabe Army since February. Since 2016, Burkina Faso has been struggling with jihadist insurgencies linked to Al Qaeda and the Islamic State in the Greater Sahara, which crossed from Mali. To cope with the violence, the government announced a general mobilization to give the state 'all necessary means' to combat the terrorist threat and recapture the territory lost to the insurgents. These would include 'all actions' and a state of emergency in which the president would have the power to restrict civil liberties. In this framework, innocent civilians are often targets of armed forces' raids and violence, which constitute a war crime under international humanitarian law.
Follow-ups on previous conflict monitoring reports
1. Serbia-Kosovo
Tensions between Serbia and Kosovo have escalated significantly in the last month, continuing the frictions of May 2023. Following boycotted elections in the north of Kosovo, riots broke out involving Serbs living in Kosovo, police officers, and NATO peacekeepers. On 14 June, Serbian authorities arrested three Kosovar police officers claiming they were attempting to infiltrate the country. Serbia's President Aleksandar Vučić put the military on high alert and moved troops to the border with Kosovo in response. The tit-for-tat events and heightened rhetoric suggest that the conflict is likely to escalate in the future.
2. Myanmar
The conflict in Myanmar remained highly volatile in June, with disparate pro-democracy opposition groups resisting the junta's attempts to control the country. The junta's latest offensive took place in the North-West of the country with the use of Russian-supplied advanced fighting jets striking villages. Human rights abuses are widespread as the military continues to bomb villages suspected of holding resistance groups. The humanitarian situation worsened as Cyclone Mocha tore through the country in May, destroying houses and displacing an estimated 100,000 people. Responses to the disaster were carried out amid the conflict, with relief efforts facing significant hurdles. At the regional level, Thailand drew criticism from other ASEAN states for meeting with junta generals in an attempt to bring the Myanmar junta back to the ASEAN fold. With no consensus among ASEAN member states on the conflict, Myanmar's instability looks set to continue over the coming months. More information about the civil war in Myanmar can be found in Dyami's previous conflict monitoring report.
3. Armenia-Azerbaijan
As mentioned in Dyami's previous conflict monitoring report, the opening of a checkpoint by Azerbaijan on the Lachin corridor in April sparked violent clashes and protests between the countries. Peace talks between the countries are ongoing but continue to be undermined by routinely occurring skirmishes. On June 28, four Armenian servicemen were killed after Azerbaijan carried out strikes along the Nagorno- Karabakh border. The day before, Azerbaijan stated one of its troops had been shot, but Karabakh Armenian denied the accusation. On June 27, US Secretary Anthony Blinken announced the start of another round of negotiations. During previous talks, Armenia declared for the first time its willingness torecognize Baku's sovereignty in Nagorno-Karabakh. The talks still stalled on the fate of Armenians of Nagorno-Karabakh under Azerbaijani rule, as Baku rejected international guarantees proposals. Since June, the situation has not improved.
About the authors
Alessia Cappelletti
Alessia is Lead Analyst at Dyami, where she researches and analyzes security threats at both operational and geopolitical levels. She has field experience in South America, Colombia especially, and has experience in researching organized crime and conflicts. Her academic background includes conflict analysis, international humanitarian law, and criminology.
Jacob Dickinson
Jacob studied Global Political Economy at Leiden University. He is passionate about international development and is looking to expand his expertise in geopolitics and crisis management. Curious about other cultures, he has traveled in Europe and Asia for both academic study and professional purposes. His expertise includes the geopolitics of oil and industrial upgrading in the electronics global value chain. He is particularly interested in the evolving political and economic relationships between China and ASEAN, and the consequences for regional development and security.
Kevin Heller
Kevin has over a decade of experience in the world of counter-terrorism as a consultant, trainer, and analyst. His background is in military Close Quarter Battle/Combat and Krav Maga for Military and Law Enforcement agencies. As a Global Intelligence Analyst, he writes Intel Briefs on conflict zones and terrorism. He has extensive knowledge of conflicts, politics, and other events happening in the Middle East. Kevin also has a background in Journalism and International Affairs/Conflict Studies.
Marnix van 't Hoff
Marnix Van 't Hoff is an experienced Aviation Security Consultant with a background in Aviation Studies from the Amsterdam University of Applied Sciences. He has a background in aviation security and has worked as a security risk and threat assessments (SRTA) specialist for aviation clients. He is an experienced crisis team leader and a HEAT trainer.
DyamiB.V. | info@dyami.services | www.dyami.services Parijsboulevard 209 | 3541 CS Utrecht | The Netherlands | +31 30 207 2120