Conflict Monitoring Report: May 2023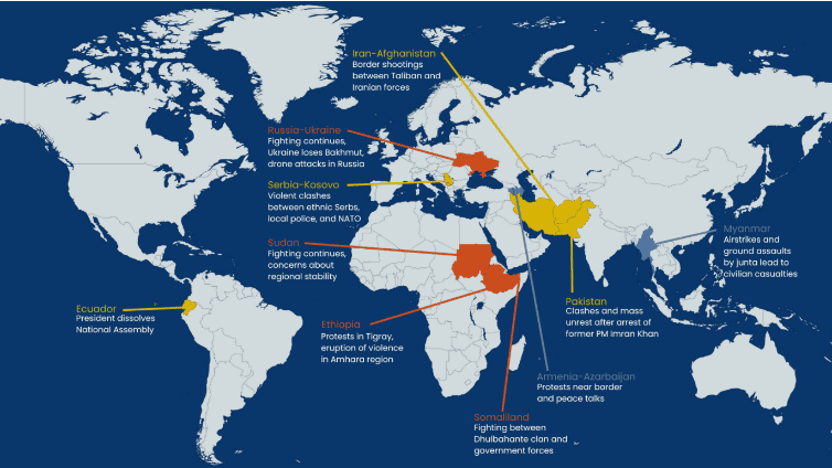 Dyami published the May 2023 Conflict Monitoring report, highlighting a few key conflicts and/or political tensions and their developments over the past month.
Here are the situations discussed in the report:
Russia-Ukraine update: Fighting continues, Ukraine loses Bakhmut, and drone attacks on Russian soil.
Sudan: Fighting in Sudan continues, leading to concerns about the stability of the wider region.
Ethiopia: Extensive protests in Tigray and eruption of violence in Amhara region.
Somaliland: Fighting between Dhulbahante clan militias and
government forces.
Serbia-Kosovo: Violent clashes between ethnic Serbs, local police,
and NATO troops following a boycotted election in north Kosovo.
Pakistan: Clashes and mass unrest after the arrest of former Prime Minister Imran Khan.
Iran-Afghanistan: Shooting between Taliban fighters and Iranian forces
on the border between Afghanistan and Iran, following tensions over water
rights.
Ecuador: President dissolves National Assembly, enacting a constitutional mechanism that allows him to rule until the next general election.
Myanmar: Junta launches airstrikes and further ground assaults against resistance forces, leading to major civilian casualties.
Armenia-Azerbaijan: Large-scale protests near the border between Armenia and Azerbaijan, both countries currently engage in peace talks.
Source: Dyami | Reisvoorbereid.nl.