Breakfast session with Professor Josette Dijkhuizen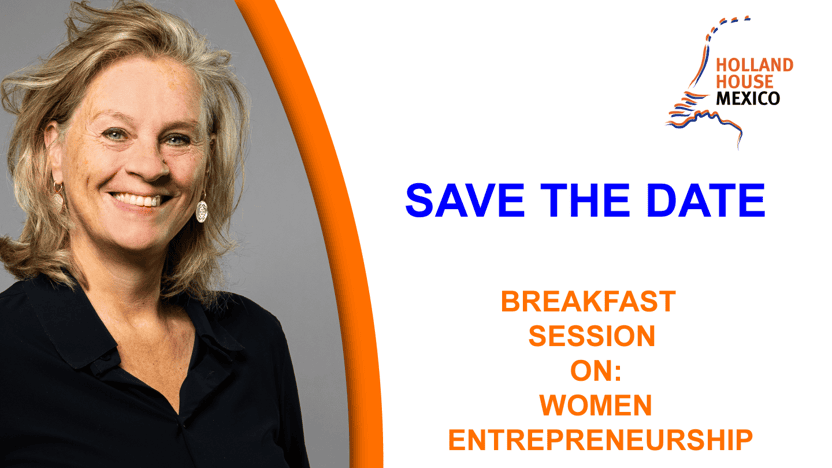 donderdag 20 juli 2023
El Palacio de Hierro
Organisator
Holland House Mexico
Evenement data
Van 20 juli 2023 16:30
Tot 20 juli 2023 18:00
Holland House Mexico is committed to continue developing the ideas and initiatives derived from the event organized in Commemoration of International Women's Day in March, this initiative is part of the #EmbraceEquity campaign, touching upon Inclusion and Empowerment of Women's causes in the professional sphere.
As a follow up, we are delighted to announce a Breakfast session with Professor Josette Dijkhuizen on Thursday July 20th 2023 at 8:30am. The venue in Mexico City will be announced on a later date.
Professor Dijkhuisen is an entrepreneur and endowed professor at Tilburg University. She's an expert on corporate entrepreneurship, social and women entrepreneurship. Her passion for entrepreneurship is expressed in books, scientific papers, and presentations. A previous position as UN Women's Representative for the Netherlands, led to the idea for Krachtbedrijf Foundation, to assist survivors of violence to start-up their business. She received (inter)national awards for her work. Do you want to know more about Josette and her work? You are welcome to visit www.josettedijkhuizen.nl and https://www.linkedin.com/in/josettedijkhuizen/
During the event she will share her knowledge, insights and practical cases on Women's Entrepreneurship and participants will have the opportunity to converse with her and share their ideas as well.