China & Beyond: Exploring Diversification in Southeast Asia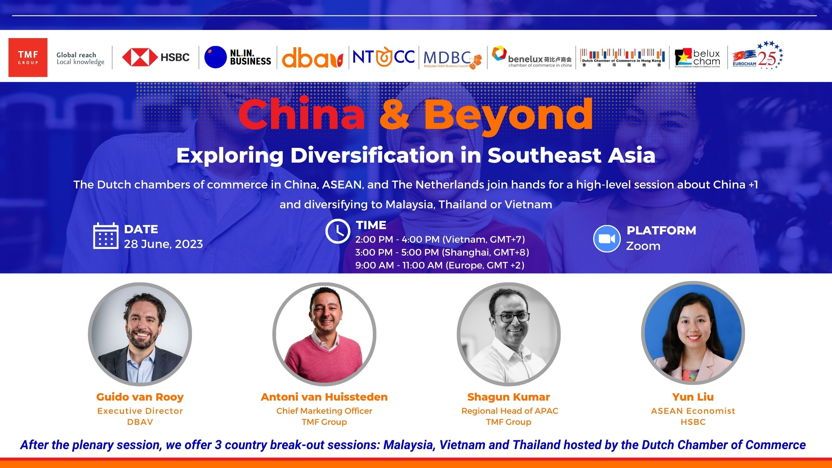 woensdag 28 juni 2023
Organisator
NLinBusiness
Dutch Business Association In Vietnam (DBAV)
Malaysian Dutch Business Council
Netherlands - Thai Chamber of Commerce
Dutch Chamber of Commerce in Hong Kong
BenCham PRD
Benelux Chamber of Commerce South China
Evenement data
Van 28 juni 2023 09:00
Tot 28 juni 2023 11:00

Join us on 28th June for an online event focused on diversifying your manufacturing beyond China. This event is organized in collaboration with TMF Group, the various Dutch/Benelux bilateral chambers of commerce and "NL Business Hubs". Thailand, Malaysia, Vietnam, China and NLinBusiness. The event aims to support Dutch / foreign investors in China with their decision making about diversification beyond China - also known as "China +1".
| Event program
At the plenary session, our distinguished global-level panel will provide a macro-level overview of the current global developments, focusing of China and the dynamics in the APAC regions.
The business leaders of TMF, Jan Willem van Drimmelen (Chief Commercial Officer of TMF Global) and Shagun Kumar (Regional Head of APAC) will present the most recent results of the yearly conducted "Global Business Complexity Index" - GBCI.
During the break-out sessions, the speaker panels, that have been assembled by the local chambers of commerce in Vietnam, Malaysia and Thailand, will shed their lights and expertise on what the key factors are to be successful in these separated markets. All participants can choose either one breakout session to join, or "roam" all 3 break out sessions. All sessions will be recorded.

As an investor, whether you're just exploring your options or ready to invest in foreign markets, this webinar will provide valuable information and best practices for companies of all sizes. All sessions will be interactive, giving you the chance to ask questions to seasoned experts and connect with businesses in the target markets.

The event will be conducted live via Zoom. Don't miss this opportunity to explore your options for diversification beyond China!
| Speaker biography
Before joining TMF Jan Willem spent 12 years at Intertrust Group where leadership roles included Global Head of Corporate Clients, Global Head of Sales and Head of North America.
After Intertrust Jan Willem worked with the former CEO to establish Create Capital Partners, a private equity firm in Amsterdam. Prior to 2007 he worked in structured products at merchant bank Kempen & Co and as an international tax attorney with Freshfields Bruckhaus Deringer.
Jan Willem obtained his Master's degree in Tax Law from the University of Leiden. He is a director on the board of the Netherland America Foundation and co-founder of the annual Netherland America Friendship Gala.
Shagun joined TMF Group in 2015 as India Managing Director and thereafter became the market leader for Southeast Asia, which went on to deliver as a top-performing market. He has led business development for Asia Pacific since October 2021 and was promoted to head of region in May 2022.
Prior to joining TMF Group, Shagun's career spanned both consulting and functional finance, having worked at Arthur Andersen, General Electric, Microsoft and Grant Thornton. He sits on the board of several multinational corporation clients as an independent director.
Shagun received a Bachelor's Degree in Commerce and post graduated as a chartered accountant. He is also a certified Six Sigma black belt and holds a professional degree in bartending.
Yun Liu joined HSBC in April 2019 as an ASEAN economist. Prior to moving to Hong Kong, Yun worked at the International Monetary Fund in Washington, DC, as a research analyst. She gained experience in Asian economies and emerging markets in Washington, DC, and Sydney. She holds an MA in international economics from the Johns Hopkins University School of Advanced International Studies and a bachelor's degree in international and global studies (first class honours) from the University of Sydney.
Guido van Rooy is Executive Director at the Dutch Business Association Vietnam. With much experience in fostering international trade and business collaborations, he leads the organization's efforts in strengthening ties between Dutch and Vietnamese enterprises. DBAV's expertise and leadership contribute significantly to promoting bilateral trade and investment opportunities in Vietnam. Guido will moderate the session.
Karl is the Partner and SEA Business Head at EAC Consulting, a German management consulting firm with operations in Mumbai, Shanghai, and Kuala Lumpur. He has been active for over 28 years across multiple Asian markets, especially in Southeast Asia and Australia. Covering Management Consulting and Strategy roles, post - merger integration, and transformation roles, as well as cross border M&A advisory in more recent times. His sectoral experience, especially transaction work cuts across the EV - supply Food & Agri, Consumer Goods, BPO Services, Financial Services, and Fintech. His Management Consulting career involved work for global firms like PWD and Kearney, as well as running his own boutique advisory business in Jakarta and Singapore. Karl holds a double degree in Applied Economics and International Relations from the Catholic University of Louvain, Belgium. He is also a prolific writer and has published his first two spy novels during the 2020 - 2021 COVID lockdown.