Circular Hotspots of the World: Driving the Global Movement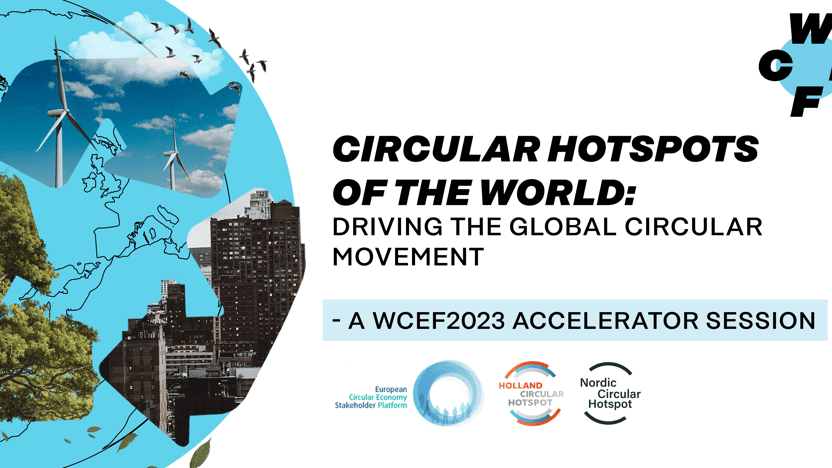 donderdag 1 juni 2023
Organisator
European Circular Economy Stakeholders Platform
Holland Circular Hotspot
African Circular Economy Network
Nordic Circular Hotspot
Evenement data
Van 1 juni 2023 11:00
Tot 1 juni 2023 11:50
Discover strategies to strengthen the global circular movement through success stories and innovative approaches from circular economy hubs around the world. What is the key to harnessing the power of the growing network of international circular hotspots?
About this acceleration session:
Date and time: Thursday, 1st of June, at 12:00–12:50 EEST / 11:00 – 11:50 CET
Place: Hybrid — Online & in Helsinki at Sokos Hotel Vaakuna, 10th floor.
Organised by: European Circular Economy Stakeholders Platform, Holland Circular Hotspot, African Circular Economy Network, Nordic Circular Hotspot
The Circular Hotspots of the World session welcomes you to explore the growing global impact of bottom-up movements and how circular networks from across the world have shaped into drivers for the circular economy. You will learn from success stories across six continents, best practices from global frontrunners, and innovative strategies for growth and for building collaboration along global value chains. We will connect and empower circular economy hotspots worldwide, exploring how we can strengthen both individual hubs and the global network and foster collaboration and knowledge sharing to drive the circular movement. This session will be of interest to global institutions, top-level decision-makers in both the business world and NGOs, policymakers, transition brokers, as well as those working with networks and governance.