DBN Breakfast Talk 18/04/2023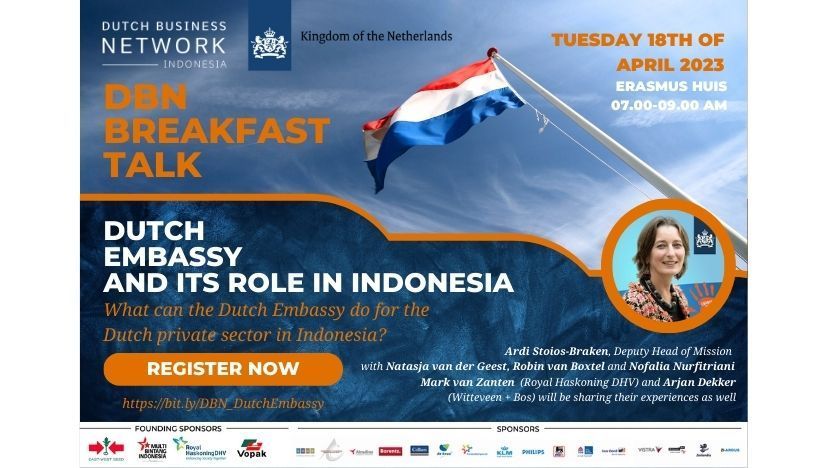 dinsdag 18 april 2023
Pusat Kebudayaan Belanda Erasmus Huis
Organisator
Dutch Business Network Indonesia (DBN)
DBN Indonesia
Evenement data
Van 18 april 2023 02:00
Tot 18 april 2023 04:00
Join us for this month's breakfast talk!
DBN BREAKFAST TALK
"Dutch Embassy and its role in Indonesia"

What can the Dutch Embassy do for the Dutch private sector in Indonesia?

A presentation and Q&A session by and with the Dutch Embassy on their (economic) mission, their capabilities and instruments which are available for Dutch private sector in Indonesia.

Ardi Stoios- Braken (Deputy Head of Mission) together with Natasja van der Geest (Deputy Head of Economic Department), Robin van Boxtel, (First Secretary) and Nofalia Nurfitriani (Agricultural Advisor) from the Dutch Embassy of Indonesia will give a presentation of their works and will be answering questions from the audience.

Two Dutch companies, Witteveen+Bos represented by Arjan Dekker and Royal Haskoning-DHV, represented by Mark van Zanten will also share their experience in working with the Dutch embassy and benefitting from the Dutch (financial) instruments.

Come and join us for this interesting discussion! Coffee and breakfast will be provided.
Tuesday, 18th of April 2023

7:00 Walk In
7.30-8.30 Key-note presentation and Q&A session

Erasmus Huis Dutch embassy

Members can join free of charge, Non Members fee is 150.000 IDR

Please register before the 16th of April 2023, we hope to see you there!