DBN x DNC Oranje Golf Tournament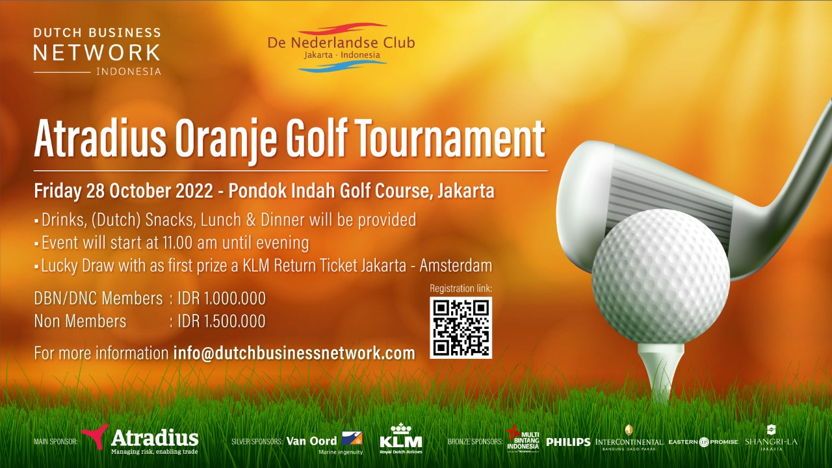 donderdag 27 oktober 2022
Pondok Indah Golf Course
Organisator
Dutch Business Network Indonesia (DBN)
DBN Indonesia
Evenement data
Van 27 oktober 2022 22:00
Tot 28 september 2023 17:38
After two years the traditional Oranje Golf Tournament is back! Both the DBN and DNC cordially invite you to join a great day of golf on Friday 28 October 2022 at the iconic Pondok Indah Golf Course in South Jakarta. Everyone and all levels are welcome to join!
We would like to ask you to register before Friday 14 October by using the following link: I am in!

You will receive more detailed information about the event after registration, but just to give you some insight this will be the program:
11.00am Registration at Pondok Indah Golf Club
11.00am - 12.00pm Welcome drinks & Lunch
12.00pm - 12.15pm Opening remarks
12.15pm - 12.25pm Photo at Putting Area
12.30pm Tournament starts (semi shotgun)
17.30pm Tournament finish
18.00pm - end Dinner, prizes, and door prizes
Golf Game: Stroke Play
Price:
DBN/DNC Members: IDR 1.000.000
Non Members : IDR 1.500.000
Price includes:
- Green fee
- Buggy
- Caddy fee (excluding caddy tip)
- Drinks, snacks, lunch & dinner
- Goody bag
We hope to see you there!

DBN x DNC Atradius Oranje Golf Committee