Health~Holland Visitors Programme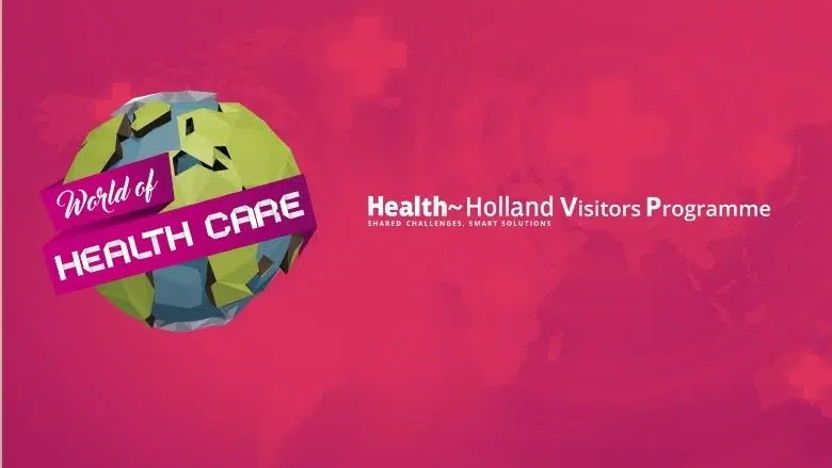 maandag 26 september 2022
Nederland
Organisator
Task Force Health Care
Evenement data
Van 26 september 2022 00:00
Tot 29 september 2022 23:59
Are you located outside of the Netherlands, are you active in the Life Sciences & Health sector and interested in the latest healthcare developments? Then please register for our Health~Holland Visitors Programme (HVP).
The HVP is a virtual & physical event for decision-makers in international, national, regional, and local healthcare. Our virtual introduction will be on 21 September, 2022. The physical event takes place from 26-29 September 2022.

About the HVP
The Netherlands invites decision-makers in healthcare and well-being from around the globe to increase their knowledge of the worldwide renowned Dutch health system and related solutions and join a vibrant international dialogue on shared health challenges and smart solutions!
3 reasons to attend
It aims to increase your knowledge of the worldwide renowned Dutch Health system and related smart solutions which increase quality, affordability, and accessibility.
The programme enables you to meet fellow professionals who share the same passion and face similar challenges in healthcare.
You can compare policies and procedures, structures, solutions, and opportunities for partnerships to foster improvement.
The Physical Programme, 26-29 September
The multiple days Health~Holland Visitor's Programme will provide you a unique tour within the Netherlands. This programme is additional to our online platform.
Draft Programme
Monday 26/9
– Arrival and Kick-off (evening) Rotterdam;
Tuesday 27/9
– Site visits region Rotterdam; ErasmusMC; Medical Delta​;
Wednesday 28/9
– Morning site visits region Rotterdam; Maasstad Hospital;
– Afternoon event World of Health Care, Rotterdam;
Thurday 29/9
– Site visits region Eindhoven; Royal Philips; TU/e; Maxima Hospital;
Get your ticket!
As an international participant, you can apply for the Health~Holland Visitors Programme (physical) and/ or join our online digital platform and network online with all countries represented.
This ticket also gives you access to our online platform. The platform provides international networking and matchmaking.
PLEASE NOTE! Limited spots are available. Therefore, your application will be reviewed by the organizing parties. The organization will inform you if you're eligible to receive an invitation to the (physical) programme. You'll always have access to the digital activities.