HHM MEMBERS ROUNDTABLE IN QUERÉTARO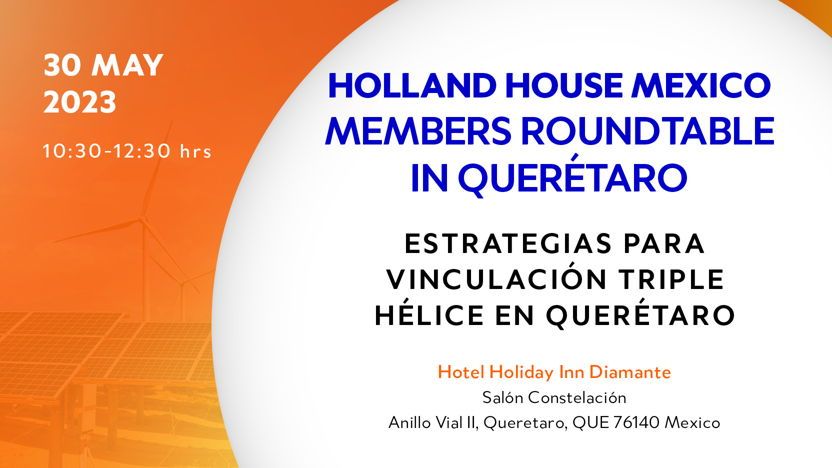 dinsdag 30 mei 2023
Holiday Inn Queretaro Zona Diamante
Organisator
Holland House Mexico
Evenement data
Van 30 mei 2023 18:30
Tot 30 mei 2023 20:30
This month, Querétaro will host the Roundtable for Members of Holland House México!
The event will take place on Tuesday, May 30, 2023 from 10:30 a.m. to 12:30 p.m. in the Constellation Room of the Holiday Inn Diamante Hotel. Special thanks to our member Eventravel for the support with the organization of this event.
The topic is:
𝗘𝘀𝘁𝗿𝗮𝘁𝗲𝗴𝗶𝗮𝘀 𝗽𝗮𝗿𝗮 𝗩𝗶𝗻𝗰𝘂𝗹𝗮𝗰𝗶𝗼́𝗻 𝗧𝗿𝗶𝗽𝗹𝗲 𝗛𝗲́𝗹𝗶𝗰𝗲 𝗲𝗻 𝗤𝘂𝗲𝗿𝗲́𝘁𝗮𝗿𝗼.
During this event our members in Querétaro and the Bajío Region will have the opportunity to get together and interact with representatives of the State Government and representatives of local academic institutions.

We are happy to announce the CONFIRMED SPEAKERS!
Ing. Miguel León, Director del Centro de Ecología y Cambio Climático - SEDESU Querétaro
Lic. Alejandro Sterling, Director de Fomento Industrial - SEDESU Querétaro
Dr. Edgardo Pérez Hermosillo, Director de División, Tecnológico de Monterrey Campus Querétaro