Webinar: Agro-Logistic Opportunities for Dutch Organisations in Colombia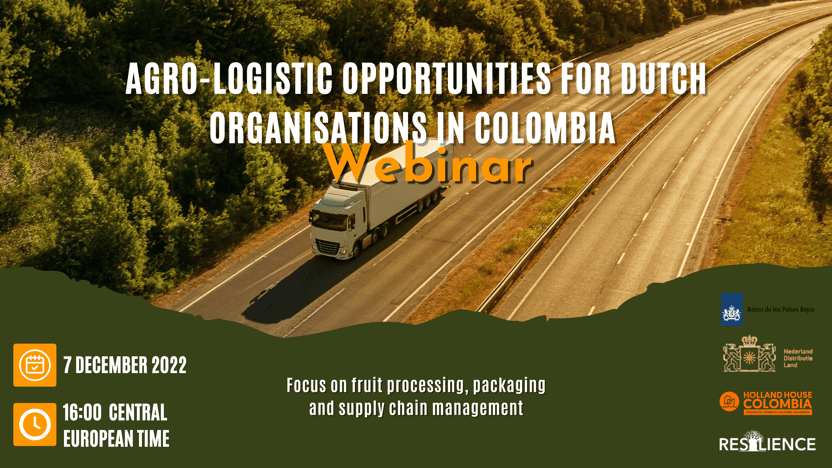 woensdag 7 december 2022
Organisator
Holland House Colombia
Evenement data
Van 7 december 2022 15:00
Tot 7 december 2022 17:00
Date: December 7th
Time: 16:00 CET

Background
With its 1.139 million km², Colombia is 27 times the size of the Netherlands, and more than twice the size of France. In her vast territory, Colombia has various agro-ecological zones, enabling the country's farmers to grow a large range of products, of which fresh fruit is one of the main product types. However, the cultivatable areas are commonly far away from the main consumption centers and/or seaports, where the fruit is often exported to Rotterdam.
The new Colombian government strongly desires to improve the economic situation of the rural areas of the country, and agro-logistics is one of the central factors to improve. On the Dutch side, this need is recognized. Recently, the Dutch Ministry of Foreign Affairs commissioned a study into the state of affairs of agro-logistics in the Caribbean region of Colombia, which was conducted by Resilience BV.
Agro-logistics is also an important theme in the Netherlands. Involving two Top sectors (Agri & Food and Logistics), agro-logistics has been one of the Netherlands´ strengths for a long time. Recently, this was confirmed by a sector study conducted by the WUR, in which the Dutch agro-logistics sector ecosystem and its international ambitions were described.
Webinar
Because of these developments, we think it is the opportune moment to take a better look at the Colombian agro-logistical sector and the opportunities for Dutch companies within them. In this webinar, Nederland Distributie Land and Holland House Colombia, in cooperation with Resilience BV and two practical speakers, will inform you on the various opportunities in the Colombian agro-logistical sector, specifically focusing on fruit processing, packaging and supply chain management.
Program:

1. Opening remarks

Arjan Kuipers (NDL), Jan Willem van Bokhoven (Holland House Colombia)

2. Research presentation by Resilience: Agro-logistics in the Colombian Caribbean: state of affairs, bottlenecks and opportunities

Susanna Cocchini, Country Manager Colombia at Resilience
3. Practical speaker 1
4. Practical speaker 2
5. Discussion Q&A and defining follow-up activities.