WorkWell Workshop Series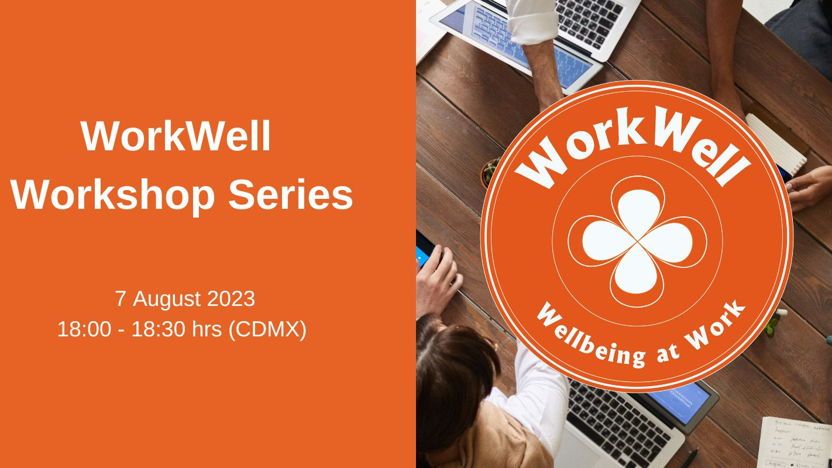 dinsdag 8 augustus 2023
Organisator
Holland House Mexico
Evenement data
Van 8 augustus 2023 02:00
Tot 8 augustus 2023 02:30
Holland House Mexico invites you to join our upcoming 𝗪𝗼𝗿𝗸𝘄𝗲𝗹𝗹 𝗪𝗼𝗿𝗸𝘀𝗵𝗼𝗽 𝗦𝗲𝗿𝗶𝗲𝘀!

The Series aims to spark discussion about topics that benefit individuals and organizations, to build a community interested in applying this knowledge, and to start the conversation among organizations.

The upcoming session will be hosted by Tania Caballero Rojas, Founder and Director of LOHAS Mexico, who will share with us the conversation around the "Miths of the Balance"
ORDERING YOUR PRIORITIES WILL MAKE YOU FEEL THE PEACE YOU NEED
Our life is made up of many areas, but each of them can become a priority at different times. If we don't learn how to order and focus our attention and energy according to this order of priorities, we fall into stress. This stress leads us to chronic exhaustion that tarnishes all other areas and that's when we feel out of balance with feelings of frustration and negativity. As a result we procrastinate and start to feel different levels of anxiety.
The best way to deal with this is by taking a break to observe ourselves and the context with the aim of investing time in prioritizing priorities, learning to project goals and objectives by quarter but with detailed processes.

The session will be in Spanish on 7 August 𝗳𝗿𝗼𝗺 𝟲.𝟬𝟬 - 𝟲.𝟯𝟬 𝗣𝗠 (CDMX).