Matchmaking fieldtrip to London, United Kingdom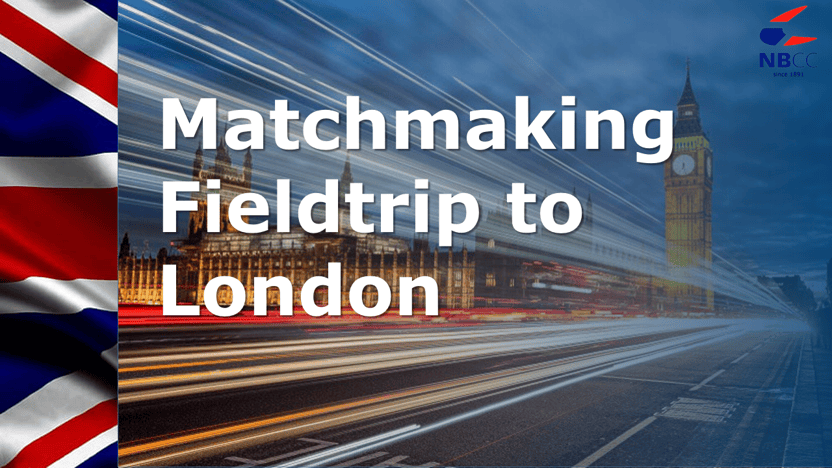 maandag 18 september 2023
Londen
Evenement data
Van 18 september 2023 09:00
Tot 19 september 2023 19:00
Do you want to grow your business in the UK? Join us on a matchmaking field trip to the UK. The trip will take place on September 18th and 19th 2023 and consist of a tailor-made programme to build your network and discover new opportunities.
The focus of the mission will be on individual meetings to discuss business opportunities, arranged by the NBCC according to your target group and preference. some exciting events.
Programme
We kick off as group on Monday 18th after which BIG group will give a marketing workshop on practical steps for UK market entry, marketing planning, consumer behaviour and media consumption. Furthermore, a meeting with the Embassy of the Kingdom of the Netherlands, a networking reception and a wonderful dinner with peers are all already lined up for you. And of course, individual tailored matchmaking meetings will be an important part of the programme.
The tentative programme, subject to change, is as follows:
17 September
Afternoon: Travel to London, hotel check-in
18 September
Individual matchmaking appointments
11:00 Kick off meeting fieldtrip
12:00 Marketing Workshop & Lunch at the BIG Group
Individual matchmaking appointments
17:00 Travel together to drinks and dinner location
17:30 Networking drinks
19:00 Group dinner
19 September
Check out for participants leaving in the evening
08:30 Private tour House of Commons
Individual matchmaking appointments
12:00 Presentation & Lunch
Individual matchmaking appointments
Presentation, Networking drinks & Meet the Dutch Embassy
19:00 End of Matchmaking Fieldtrip
20 September
Check out for participants leaving today
Costs
The participation fee is €2,400,- excluding VAT (price for members of the NBCC. Non-members pay €2,900,- excluding VAT). For any second or subsequent participants from the same company, a participation fee of €1,500,- excluding VAT, applies.
Included in the participation fee:
Intake and organisation of the matchmaking programme
Individual targeted matchmaking appointments (minimum 4)
Group meetings
Marketing workshop with a focus on UK market entry tailored to your company
Meet the Embassy of the Kingdom of the Netherlands
2 Networking lunches on September 18th and 19th
Networking drinks on September 18th
Group dinner on September 18th
Local public transport
Private tour in the House of Commons
Support of NBCC staff during the mission
Flight/Train
You are responsible for booking your own transportation for this trip. The NBCC will inform participants about the schedule and recommend a flight or train ride that connects with the programme.
Hotel
You are responsible for booking your own hotel. The NBCC has arranged a special rate with the Central Park Hotel London for all bookings between September 17 – 20, 2023.

Central Park hotel London, 49-67 Queensborough Terrace, London: offers NBCC a partners rate of £139.00 per Deluxe Double Room (Continental Breakfast is an additional of £8.50 per person per day or English Breakfast an additional of £15 per person per day).
Hotel cancellation policy: Free of charge 24 hours prior to arrival date. Failure to adhere to the cancellation policy or in case of NO SHOW the rate for the first night will be charged.
Contact information:
reservation@centralparklondon.co.uk
+44 207 229 2424
Promo code: NBCC-1709233
Join us to build and expand your network in the UK, discuss business opportunities, explore how to do business in the UK and get connected at this exciting trip.