On the road to Kraków - Business Lunch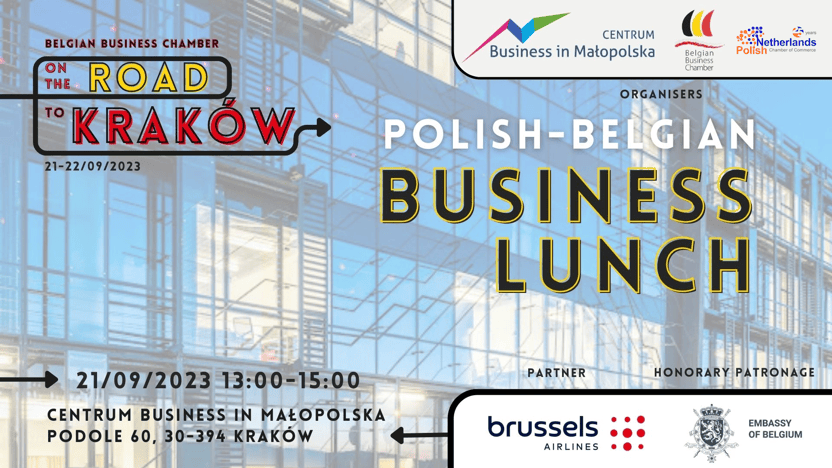 donderdag 21 september 2023
Centrum Business in Małopolska
Organisator
Netherlands-Polish Chamber of Commerce (NPCC)
Evenement data
Van 21 september 2023 12:30
Tot 21 september 2023 15:00
We are proud to be a supporting partner of the Belgian Business Chamber 'on the road to Kraków', a series of three events in the Kraków region.
On Thursday, the 21st of September, our program will start with a Business lunch organized with the support of Business in Małopolska in its premises (Podole 60, 30-394 Kraków).
We will welcome you from 13:00.
Together with the local authorities, we will unfold business opportunities in Kraków and the Lower Poland region.
Agenda of the event
Moderation: Agnieszka Pala – Manager of Business in Małopolska Centre
12:30 PM – 1:05 PM Open doors and registration
1:05 PM – 1:10 PM Welcome speech by representative of Małopolskie Marshall's Office
1:10 PM – 1:15 PM Welcome speech by Elisa Castaldo, Deputy Chief of Mission at the Embassy of the Kingdom of Belgium to Poland
1:15 PM – 1:20 PM Opening speech by Beranger Dumont,Vice—President of the Belgian Business Chamber
1:20 PM – 1:40 PM Why invest in Małopolskie? Presentation by Karolina Rzepecka, Entrepreneurship Specialist of Business in Małopolska Centre
1:40 PM – 1:55 PM Presentation of Belgian Business Chamber by Beranger Dumont, VP of the Belgian Business Chamber & Ben Greeven, BBC Board Member
1:55 PM – 2:05 PM Case study – Brussels Airlines by Agnieszka Dąbrowska, Key Account Manager at Lufthansa Group
2:05 PM– 3:00 PM Lunch and networking
More information and registration can be found here.