Polagra Premiery - International Agricultural Fair in Poznań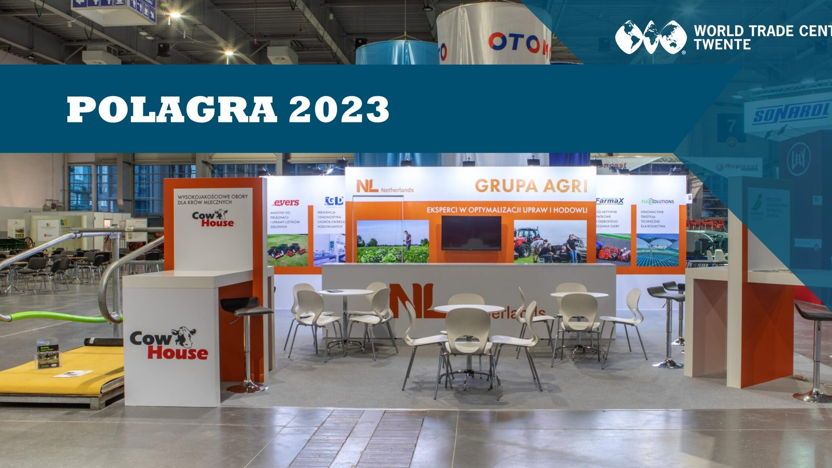 vrijdag 13 januari 2023
Poznań International Fair
Organisator
Netherlands-Polish Chamber of Commerce (NPCC)
Evenement data
Van 13 januari 2023 14:00
Tot 13 januari 2023 18:00
From Friday January 13 to Sunday January 15, Polagra Premiery will take place. A 3-day exhibition in Poznan for the agricultural sector in the broad sense with the focus on technology, cultivation and breeding.
During Polagra Premiery there will be a Netherlands Pavilion. At the Pavilion, companies will be present from the recently launched public private partnership 'Improving Soil Quality Poland'. The NL Pavilion is organized by WTC Twente with support of the Netherlands Enterprise Agency and the Embassy of the Netherlands in Poland.
We invite you to visit the NL Pavilion during these days and specifically for the network drink at the Pavilion on Friday January 13. The network drink is hosted by Freerk Faber (WTC Twente, coordinator of Improving Soil Quality Poland) and Carolien Spaans (Agricultural Counsellor, Embassy of the Netherlands).
Friday, January 13
16.00-18.00 hours
NL Pavilion, pavilion no. 38, hall no. 6
Miedzynarodowe Targi Poznanskie sp. z o.o.
ul. Glogowska 14, 60-734 Poznań
If you can join our network drink at the Pavilion, we kindly ask you to RSVP by sending an email to info@wtctwente.eu
***
In addition, on Friday January 13, prior to the Network Drink at the Pavilion, a seminar will be organized about Soil Improvement Poland from 14-16.00 hrs. at the exhibition. It will include a presentation about the current situation in Poland as well as a presentation about the public private partnership and the individual companies.
The seminar will be with translation Polish <-> English.
Friday, January 13
the Main Stage in hall no. 5
14:00-16:00 hours
We hope to see you there!
On behalf of Freerk Faber and Carolien Spaans
Seminar presenting PiB Soil Improvement Poland AGENDA
POLAGRA, 13.01.2022. 14:00
14.00 - Opening and welcome speech by Carolien Spaans and Freerk Faber
14.10 - prof. dr hab. Witold Grzebisz, Poznań University of Life Sciences " Soil fertility status in Poland" ("Stan żyzności gleb w Polsce")
14.25 - AgriWatch The use of new technologies in the prevention of the effects of climate change*
14.40 - Geo Info Solutions Tailor-made trainings and workshops in the field of geo-information and Earth observation acc. to agriculture*
14.55 - RMA Company Simple translation of complex sensor data into practical cultivation advice*
15.10 - Farmax Innovative methods in tillage*
15.25 - Rinagro Good soil fertility, increasing efficiency and reducing unwanted costs - how to achieve it*
15.40 - Vandinter Semo Seed cultivation, seed trade and seed breeding*
15.50 - Q&A