Responsible Business Week 2022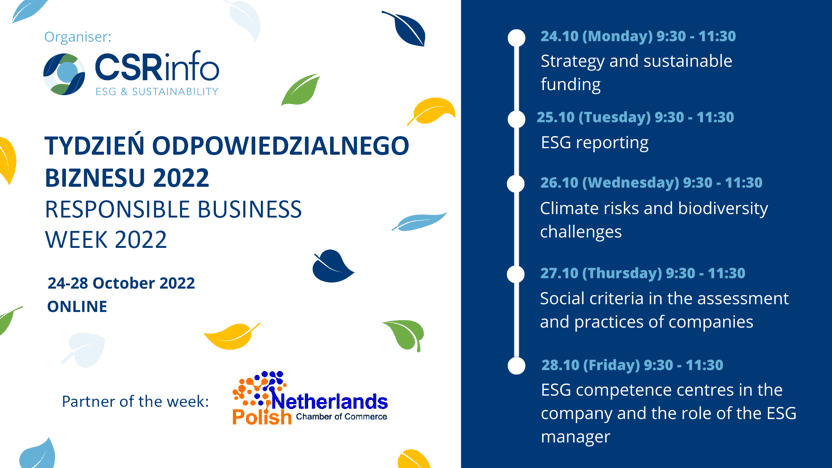 maandag 24 oktober 2022
Organisator
Netherlands-Polish Chamber of Commerce (NPCC)
Evenement data
Van 24 oktober 2022 09:30
Tot 28 oktober 2022 13:00
The Netherlands-Polish Chamber of Commerce, a Partner of Responsible Business Week 2022, has the pleasure to invite all members to join 5 days of talks, interviews and panels discussion on the topic of responsible business.
The event takes place from 24-28.10.2022 in the form of a series of meetings and workshops designed to help everyone better understand what ESG, CSR and the role of sustainability in business are.
These are topics that have been gaining extraordinary popularity in recent years related to the growing awareness of society and the search for new - better - systems of business operation. Responsible practices are no longer just an image exercise, and companies applying them on a daily basis are proving that it is possible to reconcile expansion with respect for people and the environment, with a surprisingly positive impact on financial performance. Due to new legislative requirements introduced by the Council of the European Union, involving an increasing number of companies and organisations, reporting on ESG issues is becoming an unavoidable legal obligation for them. On the other hand, the presentation of such measures has become an extremely important evaluation criterion for investors, as the results of such actions show them, among other things, the stability and at the same time the growth potential of companies.
You will learn all about the most important issues in this topic during Responsible Business Week 2022, which will take place from 24 - 28 October this year. The whole event will be held in an online format, so you can combine your participation with your current tasks anywhere.
For members of our Chamber, participation in the entire event is free of charge, so you are free to choose from the programme of issues that are most interesting to you.
The TOB2022 agenda is arranged as follows:
- 24.10 [Monday]: Strategy and sustainable financing
- 25.10 [Tuesday]: ESG reporting
- 26.10 [Wednesday]: Climate risks and biodiversity challenges
- 27.10 [Thursday]: Social criteria in the assessment and practices of companies
- 28.10 [Friday]: ESG competence centres in the company and the role of the ESG manager
To find more information, please visit: https://tob2022.csrinfo.org/
Organiser: CSRinfo
Patrons of Honour: UN Global Compact, Polish Audit Oversight Agency (PANA), Ministry of Finance, Warsaw Stock Exchange (GPW), Central Statistical Office (GUS)
Partners of the Week: Polish-British Chamber of Commerce, Business Center Club, Polish-Ukrainian Chamber of Commerce, Polish-French Chamber of Commerce, Polish Chamber of Commerce (KIG), Polish Federation of Food Industry, Employers of Poland, Polish-German Chamber of Industry and Commerce (PGCIC), Swedish-Polish Chamber of Commerce, Scandinavian-Polish Chamber of Commerce, Polish Banking Association, AICPA&CIMA, Union of Entrepreneurs and Employers (ZPP), Polish Association of Developers (PZFD), Centrum PISOP, Polish Institute for Human Rights and Business (PIHRB), Association of Chartered Certified Accountants (ACCA), The Netherlands-Polish Chamber of Commerce, Polish Register of Statutory Auditors (PIBR), Polish Real Estate Federation (PFRN), Polska Izba Informatyki i Telekomunikacji, Przedsiębiorstwo Fair Play, Polish Chamber of Commercial Real Estate, Swiss Chamber Poland, Diversity Charter, Fairtrade Polska
Media Patrons: As Biznesu, My Company, ICAN Institute, Proto.pl, Odpowiedzialnybiznes.pl, Institute of Media Monitoring, Radio Programme "Bizon - Biznes Odpowiedzialny i Nowoczesny", Mediaplanet