Webinar Civil proceedings before Polish courts – key information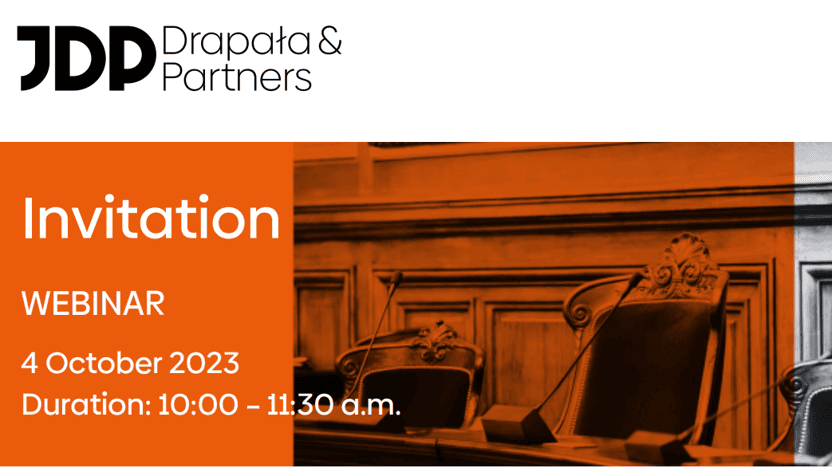 woensdag 4 oktober 2023
Organisator
Netherlands-Polish Chamber of Commerce (NPCC)
Evenement data
Van 4 oktober 2023 10:00
Tot 4 oktober 2023 11:30
We kindly invite to a webinar hosted by our member company JDP Law Firms.
JDP Law Firm is a leader in the sector of legal advice to and representation of contractors, private investors and subcontractors regarding complex infrastructure projects.
Why this webinar?
Generally, civil proceedings in Poland rely on standard solutions operating in other European countries as well. However, the experience of the JDP lawyers in working with foreign clients shows that steps taken by the parties involved in the proceedings often come as a surprise to foreign entities who have not been previously involved in court proceedings in Poland.
What you can expect
The webinar will show you what certain stages of court proceedings in Poland (regarding civil disputes) look like, and give you practical tips that might help you avoid fundamental mistakes that may result in the proceedings being extended or even a claim being dismissed. The webinar will be based on the extensive experience in the courtroom of JDP lawyers.
The practical differences between proceedings in Poland and other counties will be explained, which is helpful for preparing for a dispute in Poland.
Additionally, due to the current economic situation around the world and in Poland, most businesses face the problem of increased prices and inflation. This determines what claims are being asserted in courts. For this reason, during the webinar you will hear what legal mechanisms are available in Poland to minimise the negative financial consequences of the difficult market situation.
They webinar is aimed at company presidents, management board members, executive staf and in-house lawyers.
More information about this event.